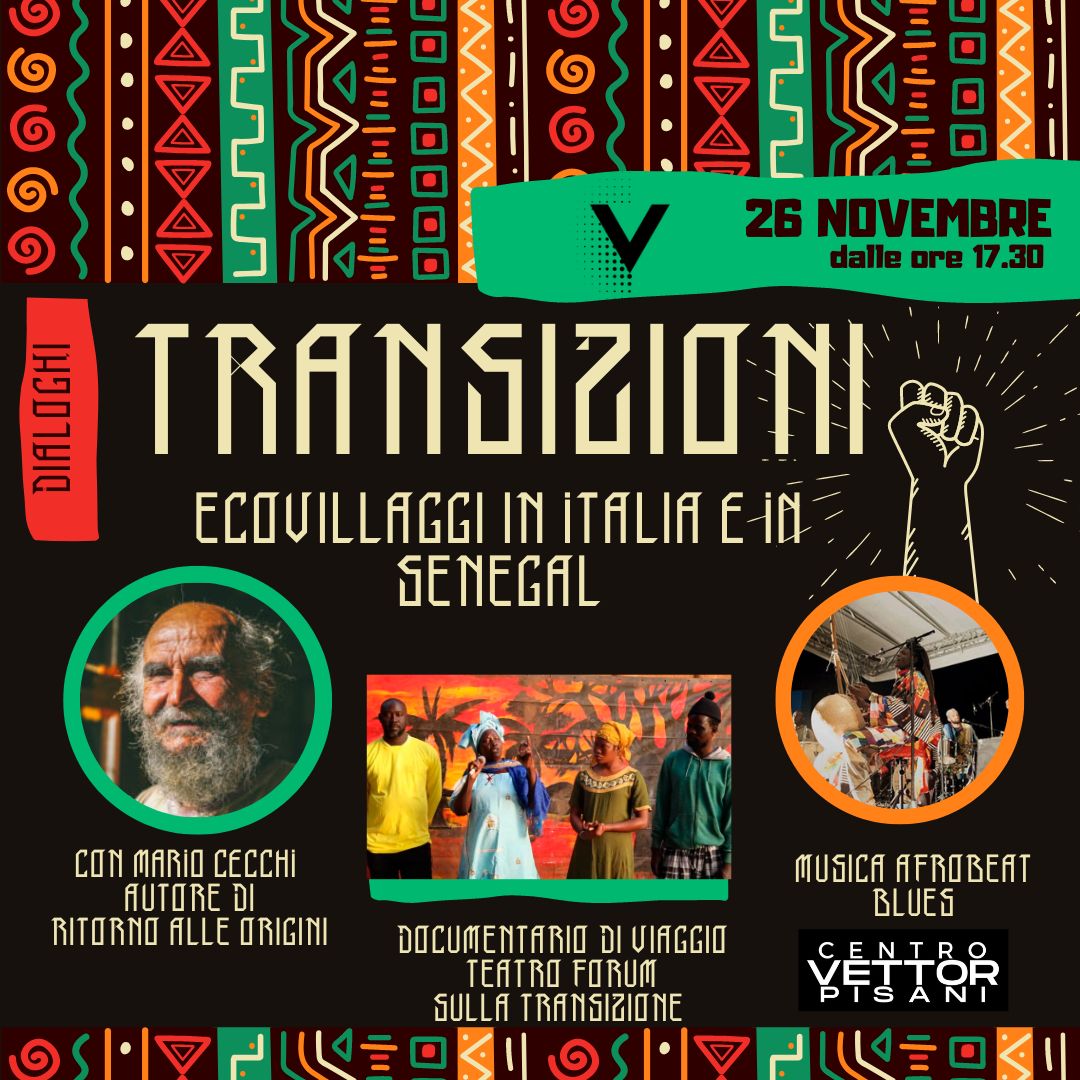 Transitions: ecovillages in Italy and Senegal
Vettor Pisani Centre
what to expect:
at 5.30 p.m. opening of doors and presentation of the book "Ritorno alle Origini" by Mario Cecchi
at 6.30 p.m. documentary screening: 'Theatre-forum among the ecovillages of Senegal' by Alessandra Manzini
followed by banquet and afrobeat music
A meeting to reflect on the value system that guides successful ecological transitions in Italy (Ecovillaggio diffuso degli Elfi) and in Africa (Ecovillages of Senegal) with Mario Cecchi and Alessandra Manzini.
Mario Cecchi is the founder of the Ecovillaggio popolo degli Elfi in Sambuca Pistoiese, of the Rainbow movement and the Italian Network of Ecological Villages. He has dedicated his life to the common good and will give us some food for thought from his book: Ritorno alle Origini.
The ecovillage experience of the Elf people is relevant to the values of the peasant civilisation that it regenerates in daily practices and simple lifestyles based on interdependence and harmony with nature. At a time in history still dominated by capitalist greed, which is destroying the Earth's ecosystem and endangering the very survival of the human species, another paradigm based on freedom, equality, solidarity, cooperation and the spiritual evolution of the human being is emerging as fundamental values for a new renaissance in all areas of social life. Elves are a reality in search of a consciousness and a re-knowledge of the ancient laws of nature and related spirituality, which presuppose a respect for natural balances and an interaction under the banner of reciprocity and well-being.
We will discuss the multiple points of contact between the different forms of transition and types of ecovillage recounted by Mario and encountered in Africa by Alessandra Manzini in her journey in search of transformative insights from the Senegalese movement and other anti-hegemonic experiences in Casamance. Possible intergenerational alliances between populations that are facing climate change in different geographical locations, demanding the right to the future, to reverse the course that for centuries has generated unequal impacts between the North and South of the world.
There will be a screening of an extract of the travel documentary of about 15 minutes and a space for interaction with those present.
Finally, there will be a moment of conviviality and self-financing for the initiatives of the Vettor Pisani Centre accompanied by the Afrobeat, blues music of Alioune Slysajah.